JEAN'S FINE ART
ART THAT TAKES YOU THERE...
ART THAT TAKES YOU THERE…  
Throughout life, all of us have been in situations similar to the ones listed below:



A city family who went on a fabulous vacation in the wilderness, and experienced nature in a way they never had before…
Homeowners who built a pond feature or installed bird feeders in their back yard and reveled in the beauty of the butterflies, dragon flies, birds, frogs and fish in their little oasis far from traffic and neighbors on the other side of their fence.
Country folk who regularly see the wonders of deer, turkeys, bears, raccoons, wild geese and shore birds, or other wildlife outside their windows…
Hunters who respect the majesty of nature, and just enjoy the opportunity to be outside observing it as much if not more than the actual harvesting of wildlife…
Anyone who enjoys the splendors of a sunrise or sunset, a flower, a stream bubbling over rocks, or a wide open vista…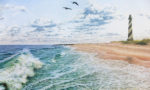 Whether it's the grandeur of a national park, an ocean beach, a mountain hiking trail, the hush of the forest or the wind whispering over the desert, east, west, north, south, people of all walks of life in all locations r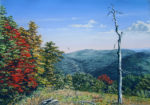 esonate with the incredible world of nature.  They want to be there, go back there, or relive the experiences that moved them and perhaps changed their way of thinking about our world.  They get it!  They want to recreate the feel of those moments right in their own homes or businesses by finding art that takes them back to precious memories or transports them to some place far away from where they are.  It's more than decorator art that fills a bare spot on a wall and goes with the furniture and drapes.  It's art with meaning; art that fills the soul; art that takes you there.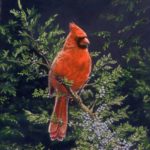 My art tells a story, creates a mood, and can become the whole focal point of your room; it's not just another flat illustration.  It takes you to where I've been, what I've experienced; it reminds you of what you've seen and loved—maybe you've even been to the same spot!  It transports you to another time and place.  It's art that takes you there because I've been there and recorded it with accuracy and sensitivity from my own soul.   
Your home, even your business, can be an oasis far away from the "busy-ness" of life!  You can create the mood:  serene or vibrant, warm or cool, day or night, panoramic vistas or close-up encounters.  Whatever you choose, you'll love feasting your eyes on it every day!  It's more than decorating walls in a house or office; it's an investment in your sense of well being and quality of life.  You've heard it said that your home is your castle, right?  You can make it a place where you really want to be!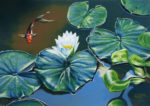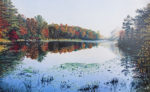 My medium is soft pastels, pure pigment rolled into sticks with a minimum amount of binder to hold the materials together. No liquid binders, as is used in paints, means purer pigments and saturation of color which will not fade or change over time.  Every work of art is painted on 100% rag acid-free paper and framed in archival materials under museum conservation glass.  You can be assured that my original pastel paintings will, with proper care and handling, remain just as fresh and vibrant decades from now and beyond as the day you purchased them.
Jean Carter is something of a rarity among wildlife artists.
First, as a woman, she's working in what has been a male-dominated field. Second, her medium is unusual; she works with pastels. She describes her work as "natural scenery the incorporates wildlife…."I want them to be an integral part, to tie it all together." Her work is pastels, "which is unusual for wildlife art. I know only one other artist in the field who uses pastels…due to the name pastels are usually associated with soft color. That, Jean says, "isn't necessarily true. "I use bright colors and work tightly with them. I guess you could call my work almost photographic."
Frank P. Jarrell
Article: Capturing Nature's Beauty on Canvas
"…I celebrated a different kind of art earlier this month at the Ward Exhibition of Wildfowl Art in Salisbury, Md…..  Struck once by the boundless beauty of nature and of the  talented works of some 150 artists from across the United States…. I could not pick a favorite among the thousands of works at the show. But high among them would have to be a painting by Jean Carter of Kilmarnock (Va). Titled "Trading the Winds", it depicts a flight of snow geese that have dropped beneath the treeline to struggle against unfavorable winds, set against a stormy sky. It combines drama, power, conflict and beauty — epitomizing what art is about".
Paul Sullivan