ABOUT ME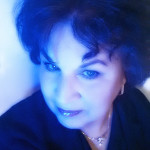 I grew up in rural Lancaster County on Virginia's Northern Neck, a scenic area of 5 counties framed by the Potomac and Rappahannock Rivers where they flow into the Chesapeake Bay.  My hometown of Kilmarnock isn't close to anything except water!  Although we were a poor family, I was lucky enough to live right on a creek that flowed directly into the Bay, where I spent endless summers paddling around in my little plywood skiff, crabbing, fishing, building little salt water "aquariums" in glass jars by catching minnows and crabs, watching them for a day, and then letting them go.  At night I could see the quicksilver from the moon shining on the water, and the phosphorescence of jelly fish spangled across the shoreline as the waves lapped them up onto the sand.  Winter brought spectacular sunsets and myriad waterfowl into the creek for refuge: swans, Canada geese, all manner of diving and puddle ducks, in huge flocks.  Deer, otters, opossums, raccoons, rabbits, squirrels, muskrats, herons and egrets, owls, osprey, bald eagles, an endless array of wildlife for me to study and enjoy regularly passed through or over our property all year long.  These were the subjects I went to early in my painting and writing careers, and still gravitate to today–nature girl extraordinaire!
I have always loved to draw.  When I was very young, I learned the hard way from my Daddy, NOT to draw in his books!  At age 7, I decided I wanted to be an artist, and I have never deviated from that path.  At age 10, I got my first watercolor set; there was no turning back after that!  My high school was so small there were no art classes, but I won some school-sponsored art contests.  I studied communications art & design at Virginia Commonwealth University in Richmond.  After I left VCU in 1971, I was quite burned out and didn't paint at all for about 8 years.  By then, in the middle of a failing marriage, I had had a conversation with God, had accepted Him as my savior, and felt He would not be very happy with me if I continued to ignore the talent He had given me.  When I decided to paint again, I had to start all over, as everything I used to do so easily had somehow gone away…took me about a year to re-learn and get back to the level I had been at previously before I could start to grow and improve.  I began to enter small local shows, then larger state-wide shows, and finally some national, juried wildlife shows up and down the East Coast.  I won some awards, produced a lot of note cards and limited edition prints, and enjoyed a moderate level of success with my base "audience" built up over 25 years.
 But, my life was really missing something.  I had suffered a divorce when my children were small, remarried, then found myself single again after my second husband died in 1997.  I had given up art for about 5 years during my husband's illness and death, and while I built my dream house on the home place I had inherited from my parents after their deaths shortly before my husband's.   I even had an incredible art studio that looked over the water.  I thought I had everything, and would never leave that house.  The kids went off to college and then went out on their own.  I found myself alone and floundering for some sense of direction.  God seemed strangely quiet.  I think I had a mid-life crisis!
With the exceptions of the years  1972-1973, spent in Norfolk, VA, and Birmingham, AL, I had lived my entire life in either Lancaster County or adjoining Northumberland County in the Northern Neck.  After a lot of angst over where my life was NOT going, I decided in 2006 to take a huge gamble and move away.  I'd already had the best waterfront that could be found, so it had to be the mountains–nothing in between.  I needed new adventure in life, and change was gonna do me good!
 In 2007, I sold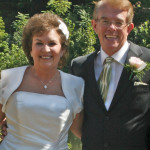 my dream home and moved to the mountains of the Shenandoah Valley near the town of Front Royal in Warren County, VA.  I found a smaller, brand new home outside of town  and settled in.  I met my future husband the first year I was here, and married Jim Kimble in 2009.  Again, I am lucky enough to have a beautiful view of the mountains, with Skyline  Drive twining around the tops of the ridges and its north entrance just a mile from my front door.  Jim also has a home in WV, near where he was born and raised; we spend a lot of time over there as well.  I love it here; the mountains offer endless moods as the water did, and the rivers and streams laughing over the boulders and waterfalls are spectacular.  We have a LOT more snow, but I do miss salt water, and from time to time have to get back to the coast for a "fix"!
 Jim is an amazing man full of talents of his own:  car mechanic extraordinaire, gifted do-it-yourselfer, electrician, plumber, entrepreneur, photographer, and partner-in-crime with me on landscaping and home improvement projects.  If he doesn't know how to do something, he takes it upon himself to learn, and then, it's "mission accomplished".  He is also my biggest fan and supporter of all things art.  Together, we accomplish things I never dreamed I would ever be able to do.
 Almost everything I have ever done has centered around some form of creativity.  I have worked as a landscaper and a floral designer, both jobs I enjoyed; I love to grow orchids and am into water gardening.  I have a small pond and meditation garden, built over the last three years, which is my passion in the summer months.   I also love doing home improvements, so even though my house was brand new when it was bought, we are doing all sorts of projects, inside and outside, to both beautify and improve functionality.  I love it all, from creating color schemes and painting the walls to sewing window treatments, and matching up just the right accessories to bring a look "together".  It is so much fun to watch a project coalesce from idea to fruition! I believe your home is truly your castle, and anything you can do to produce peace and order out of life's chaos, and the enjoyment of surrounding yourself with beauty and things you love will repay you many times over for your time and effort! I have an intense interest in minerals and gemstones, and sometimes enjoy designing my own jewelry.  When I was in high school, I used to cast plaster of Paris in cardboard boxes and carve reliefs and sculptures.  They are all gone now, but these days I like to carve small things from durable materials that I can convert into jewelry, and dream of carving some free-standing sculptures from wood or soapstone.  As previously noted, I have been writing since my high school days.   I consider all these things as various forms of art.
I raised three beautiful children, two sons and a daughter, who are grown and married on their own now, and I have three precious grandsons.  Jim has two grown sons, one married as well, with two step grandchildren, so our family is a busy one.
Like most of us who've lived over half a century, I've had my share of losses and tragedies, some of which have been totally life altering.  I've battled divorce, depression, poverty, bankruptcy, failed business ventures, untimely family deaths, and many other stumbling blocks, but I have a God who loves me and takes care of me always, in spite of my mistakes and missteps, and who opens doors I never knew existed.  He has always worked my bad circumstances into future benefits, even though I couldn't see it at the time, and it is through my faith in Him that my life is whole now, no matter what lies in the path ahead.  It's been an amazing ride so far.  I've learned a lot, and I look forward to having you join me for more of it!